We offer the highest resolution in the industry (1500 dpi) which allows us to print exceptional gradients with no banding or "lawnmower" effect.  We can print on annealed, heat strengthened or tempered glass, either direct to the glass or to film which is then laminated.
This allows us to adjust the opacity levels from 0% to 600% on the same piece of glass.  As a result, we can print higher opacity to hide structural architectural work behind the glass.  Adjusting opacity levels on the same piece of glass allows for some unique backlighting techniques for our digital stone, public art installations and much more. Check out some of our work for more examples of what you can achieve with printed glass. View Our Work
As patent holders for our printed glass and mirror applications we are able to offer our clients exceptional printed glass solutions. From art pieces to corporate installations, printed glass will take any project to the next level. Unlike traditional ink glass printing, our technology allows us to achieve outstanding colour reproduction across the spectrum. This allows us to fabricate from extraordinary artists, ideal for Public Art Installations.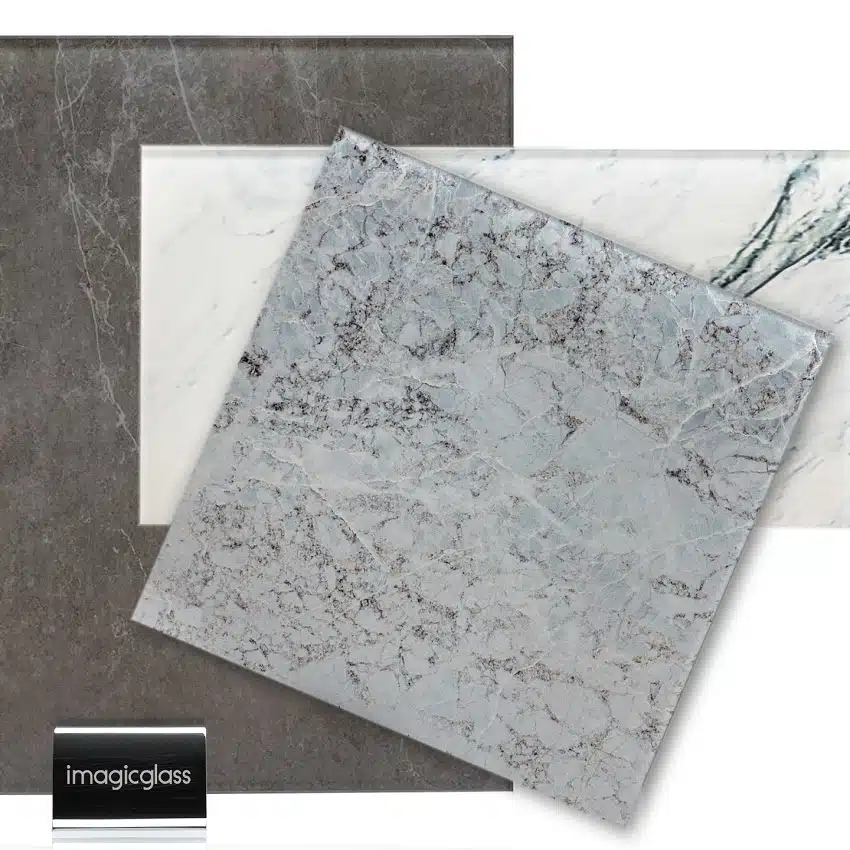 Finished, full scale, print-ready CMYK pdf is preferred. Contact us if you have questions or need to review acceptable file formats. 
Sample production lead time is estimated at 10 business days (not including shipping or delivery)
Some of the information we will need to know:
Visibile from 1-side or 2-sides
Application of glass (wall cladding, partition etc)
Indication of opacity, translucency or transparency
Percentage of opacity
If laminated, interlayer colour, opacity and material; EVA, SGP, Liquid
If you aren't sure, contact us and a member of our team will follow up with you.
When it comes to printing on glass… the design possibilities are endless. Check out our printed glass collection and get inspired!